GM College Grad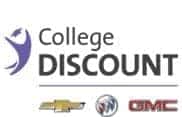 Looking to save on a new vehicle?
You've come to the right place!
If you are a college student, recent graduate or graduate student,* you can receive a special discounted price that's below the MSRP. This outstanding value can be applied to the purchase or lease of eligible, new Chevrolet, Buick and GMC vehicles. Simply request an authorization number and present it, along with evidence of enrollment or diploma dated no more than 2 years ago, to your GM Dealer. Combine this discount with most current offers to save even more.
Build a vehicle to your exact specifications, and view the GM College Discount Price and MSRP by following the prompts.
To take advantage of this opportunity, you must request an authorization number. Authorization numbers may be requested for the purchase or lease of two (2) vehicles per calendar year. Authorization numbers are valid for 90 days toward the purchase or lease of an eligible, new vehicle.
All purchases must comply with The Program´s Rules and Guidelines.
So don't wait – pick out your new ride and take advantage of this exclusive discount from GM today!