2024 Chevrolet Silverado EV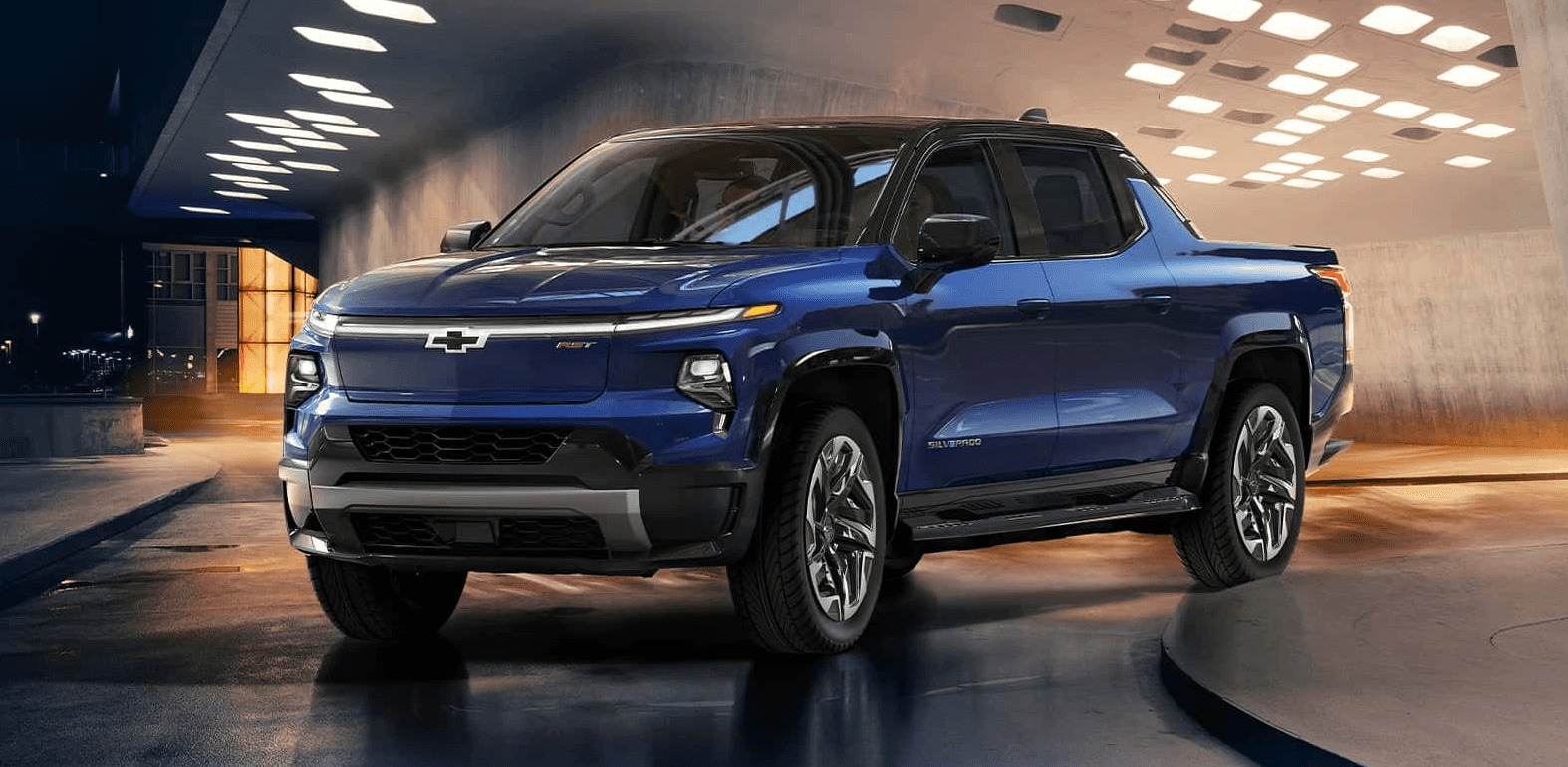 Overview
If you were to tell a group of people 20 years ago that we'd live to see a day where all-electric pickup trucks would dominate the scene, they probably would have laughed and called you crazy. But here we are in 2022, watching EV pickups take an undeniably strong foothold. From startups to the Big Three, electric utility vehicles are quickly becoming the norm, and now Chevy is joining the ranks with their all-electric take on the iconic Silverado. It's slated to launch in 2023 as a 2024 model, so the anticipation will just keep building. The Silverado EV is expected to draw in a new generation of drivers with its unrelenting brawn and seriously substantial all-electric range. While its release is still over a year away, there's a good amount of information available to keep interested parties excited before its highly anticipated debut.
The Silverado EV will roll out incrementally, trim by trim, with the base WT set to kick off in the spring of 2023. The RST First Edition will follow in the fall, with the full lineup – including the extra-rugged Trail Boss – coming out shortly after that.
Small, Practical Design
Chevrolet addressed every tiny detail during the designing of this all-electric pickup, and its appearance was carefully crafted for a blend of freshness and classic Silverado appeal. Its great looks will complement a high level of practicality and function, with features such as the eTrunk, a front storage area found under the hood where the engine would be in a traditional vehicle. This design frees up space in the bed for larger cargo items.
The Silverado EV will also have a game-changing Multi-Flex Midgate with pass-through, giving owners the ability to carry items up to 10 feet long. A 60/40-split second-row seatback will be standard as well, allowing for extra-long cargo on one side and seating a single rear passenger on the other. Plus, the available PowerBase charging system has 10 outlets that produce 10.2kW of total offboard electric power. This means that you'll be able to juice electronic equipment wherever you are, be it at a job site or on a camping trip deep in the woods. PowerBase can even charge other EVs with an optional accessory cord.
Power, Performance, and Charging
GM's all-new, state-of-the-art Ultium Platform is the basis of the Silverado EV, providing up to 400 miles of driving per charge. There will be two electric motors – one on the front axle and the other on the rear – which Chevy says will produce 510 hp and 615 lb.-ft. of torque in the WT and 664 hp and 780 lb.-ft. of torque in the RST. Top power is achievable with the max-power Wide Open Watts (WOW) drive mode, which can also take the '24 Silverado EV from 0 to 60 mph in just 4.5 seconds.
Other notable performance-enhancing attributes for this pickup include four-wheel steering (for greater maneuverability at low speeds and better trailer handling at high speeds), an automatic adaptive air ride suspension (which can raise or lower the vehicle by two inches), and trailering-capable Super Cruise (the industry's first true hands-free driving assistance system). Additionally, both the WT and RST will have DC fast-charging capabilities of up to 350kW, allowing the vehicle to gain 100 miles of range in just 10 minutes.
Towing and Payload
One of the chief reasons for choosing a full-sized pickup is the mighty towing capabilities of this segment. The WT will be able to pull up to 8,000 lb., while the RST will take on 10,000 lb. Chevy endeavors that there will be a version of the Silverado EV with a towing capacity of 20,000 lb. Both the WT and RST will come with some useful trailering technologies as well, including a special Tow/Haul drive mode, trailer hitch provisions, and an integrated trailer brake controller with hitch guidance. Exclusive to the RST, however, will be Chevy's Advanced Trailering System. As far as payload, the WT will be able to handle up to 1,200 lb., while the RST is rated to support 1,300 lb.
Interior and Technology
The '24 Silverado EV's interior will have an upscale, tech-forward quality to it, as well as an expansive feel, thanks in part to a large, fixed-glass roof. A spacious center console will add plenty of space to stash smaller items, especially those you'd like to keep out of view when it's parked. The RS will have a whopping 17-inch touchscreen infotainment system that includes built-in Google, voice recognition (allows for hands-free vehicle start), futuristic 3D animation, and over-the-air software updates. The RST will get an 11-inch digital gauge cluster and a head-up display.
Reserve Your Silverado EV